Techna Center, LLC launches online calculator to estimate savings for current website owners
August 26, 2012
For immediate release
With a continued weak economy and tight budgets, many small business owners consider for ways to save on costs. The reward of savings is that it can increase profit margins. So it makes sense to save.
To help small business owners learn about the potential savings on web services, Techna Center, LLC launches a free online calculator on its website. The calculator is simple to use and computes the savings based on the user's competitor cost data and selection of the identical services desired from Techna Center, LLC.
As far as the calculator is concerned, competitor costs represent current or quoted costs of operating a business website. Examples of competitor costs include website redesign, website maintenance, web hosting, email marketing, and so on. Web companies often employ two main pricing schemes: in one a range of web services are sold to small business owners as a web package, in the other, each web service is sold individually. The calculator supports entry of both of these cost options.
The second part of the calculator provides a number of options to the calculator user to indicate desired services from Techna Center, LLC. Based on these criteria, the calculator computes the Techna Center, LLC costs and compares it with the competitor costs. Furthermore, the calculator presents a user-friendly page with the estimated savings.
Based on the competitor cost shown in table 1 and the costs of the identical services offered by Techna Center, LLC in table 2, the calculator reveals the estimated savings is 42% or $651.92 during the first year and $431.12 in the second year.
Table 1 competitor costs
Website maintenance
$60/month
Website hosting
$20/month
Website search engine optimization (SEO)
$149/year
Email marketing
$150/year
Website redesign
$299
Table 2 services desired from Techna Center, LLC
Website redesign?
Yes
Number of web pages
1-5
Desired website maintenance package
Business
Website hosting?
Yes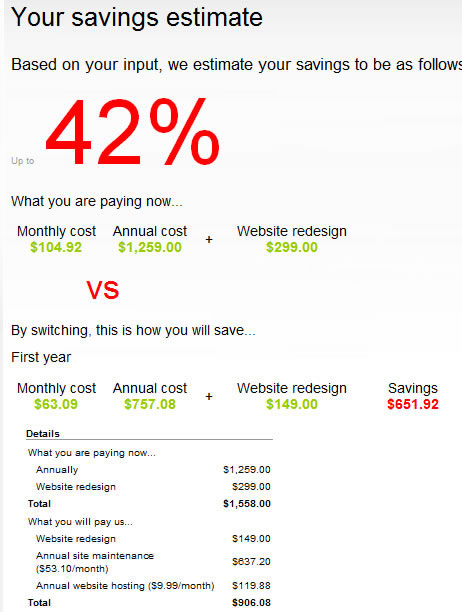 Estimated savings
"These savings don't surprise us as we strive to save our clients money every day - it's that simple," noted Raj Singh, General Manager. Singh continued "Although we have published our prices online for our common services, it is not obvious enough to figure out the savings we can deliver to our customers. The calculator provides an excellent opportunity for us to help our current and future clients make informed decisions for web services."
About Techna Center, LLC
Techna Center, LLC is an independent and privately held company based in Randallstown MD, offering a full suite of web and software development and support services. Techna Center, LLC specializes in the development and training (through ScriptingMaster.com) of web design, web programming, apps, content management systems, email campaigns, software, creative services, search engine marketing, and social media networking.